Quick reminder to everyone...
This weekend is Blogfest! It's going to be a huge celebration with hundreds of blogs participating!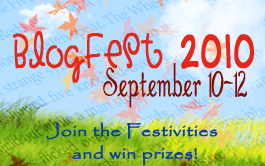 And not only that, there will be tons of giveaways!
Here at A Cup Of Tea and a Cozy For Me, there will be a special guest author post and a great giveaway!
So be sure to stop in between Sept. 10 - 12 to find out what all the fuss is about!